Am Rheinfall




H
alte dein Herz, o Wanderer, fest in gewaltigen Haenden!
Mir entstuerzte vor Lust zitternd das meinige fast.
Rastlos donnernde Massen auf donnernde Massen geworfen,
Ohr und Auge wohin retten sie sich im Tumult?
Wahrlich, den eigenen Wutschrei hoerete nicht der Gigant hier,
Laeg er, vom Himmel gestuerzt, unten am Felsen gekruemmt!
Rosse der Goetter, im Schwung, eins ueber dem Ruecken des andern,
Stuermen herunter und streun silberne Maehnen umher;
Herrliche Leiber, unzaehlbare, folgen sich, nimmer dieselben,
Ewig dieselbigen—wer wartet das Ende wohl aus?
Angst umzieht dir den Busen mit eins, und, wie du es denkest,
Ueber das Haupt stuerzt dir krachend das Himmelsgewoelb!




Eduard Moerike 1846

At Rhine Falls




H
old your heart firmly, wayfarer, in stalwart hands!
My own hands trembling with emotion almost let go.
Relentless thundering masses thrown onto thundering masses,
Whither shall eye and ear seek shelter in such tumult?
Truly, a giant would not hear his own cry of fury here,
Were he lying, fallen from the sky, cramped under a rock!
Vaulting steeds of dieties, one up over the other's back
Plunge downward scattering their silvery manes,
Gorgeous bodies, countless, in pursuit, never the same,
Yet ever the same—who will see this to the end?
Suddenly fright pervades your breast, and, while you ponder,
The heavenly vault crashes down upon your head with thunder!




Translation: Charles L. Cingolani Copyright © 2015

Rhein Falls location: Near Schaffhausen, Switzerland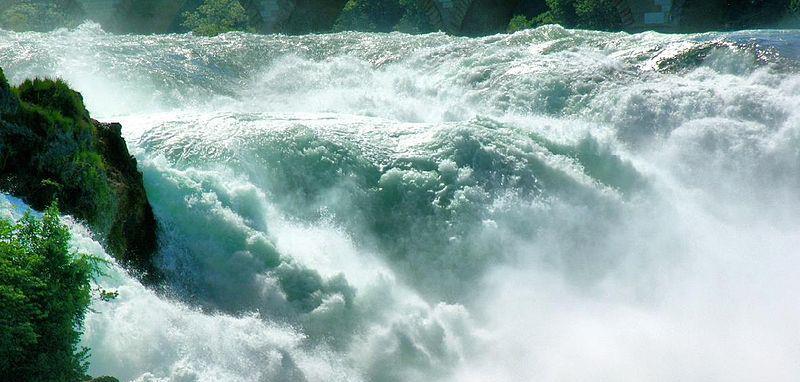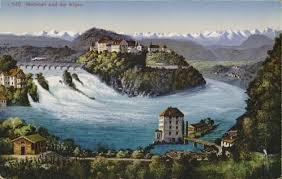 2 April - 2 July 2017<br>

Collection of Rhein Falls Paintings

1750 - 1850
Schloss Bonndorf
79848 Bonndorf, Germany