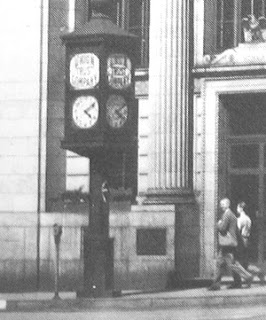 The Butler Pennsylvania Poems



Main Street Clock



I
t was at Jefferson and Main,
in the heart of town,
in front of the bank
that our clock stood
solid and proud, on cast iron
but upswung and tapered
forming a base
with ornamental molding
upon which the clockwork was
housed
shrine-like, behind glass
with fragments of quartz
red, amber and green
set in along its edges.

It was in our very center
in those days
when uptown was where
all our paths crossed.

We looked up
to watch time rest into place
with a slight jerking
of the minute hand.
From glances at that solemn
face
we learned the stinging
awareness
of our time passing.

But who is that I see now
forty years later
standing underneath it—
still the same as she was then,
on tip-toes, waving?





Next
Home


Comment